About This Video
---

A clip/trailer of Bless Me, Ultima
Tags
:
Bless Me, Ultima
Type
: Movie Trailer
Views
: 762
This Movie Info
---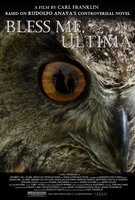 Bless Me, Ultima
Release Date :
February 22, 2013 Limited
Studio :
Arenas Entertainment
Director :
Carl Franklin
Starring :
Luke Ganalon, Miriam Colon, Benito Martinez, Dolores Heredia
Antonio Marez is six years old when Ultima comes to stay with his family in New Mexico. She is a curandera, one who cures with herbs and magic. Under her wise wing, Tony will test the bonds that tie him to his people, and discover himself in the pagan past, in his father's wisdom, and in his mother's Catholicism. And at each life turn there is Ultima, who delivered Tony into the world-and will nurture the birth of his soul.