About This Video
---
A clip/trailer of Crazy About Pippa
Tags
:
Crazy About Pippa
Type
: Movie Trailer
Views
: 1061
This Movie Info
---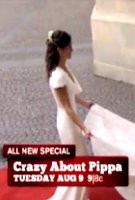 Crazy About Pippa
Release Date :
August 09, 2011 TV Premiere
Studio :
TLC
Starring :
Pippa Middleton
A one-hour special that focuses on Britain's most eligible bachelorette - Duchess of Cambridge Kate Middleton's younger sister - Pippa Middleton.
On April 29th 2011, the world saw not only the Royal Wedding, but the day the world stood up and took notice of Kate's elusive younger sister and Maid of Honor. Throughout the hour, those closest to Pippa provide insight into the life and work of the future Queen of England's sister. Those who know and admire her will answer the question, who is Pippa Middleton?