About This Video
---
A clip/trailer of RA. One
Tags
:
RA. One
Type
: Movie Trailer
Views
: 1304
This Movie Info
---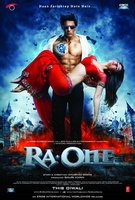 RA. One
Release Date :
October 26, 2011 Limited
Studio :
Eros Entertainment
Director :
Anubhav Sinha
Starring :
Shah Rukh Khan, Kareena Kapoor, Arjun Rampal,
Priyanka Chopra
Attempting to connect with his teenage son, a Game Designer creates the ultimate videogame Villain. When the villainous program becomes self-aware, it escapes from the game and kills the father. Now hunted by the digital demon because he's the only player to ever defeat him, the Boy must extract the game's hero - designed in his father's image - from its cyber-world for protection. Together, the unlikely duo bond form a relationship they never shared as father and son while stopping the villain's plan to enslave the world.