About This Video
---
A clip/trailer of Cat Run
Tags
:
Cat Run
Type
: Movie Trailer
Views
: 685
This Movie Info
---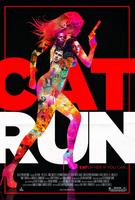 Cat Run
Release Date :
April 01, 2011 Limited
Studio :
Lleju Productions
Director :
John Stockwell
Starring :
Paz Vega
,
Janet McTeer
, Christopher McDonald, Tony Curran
Anthony has always dreamed of being a famous chef. His best friend Julian only thinks about women. With neither ambitions really working out, the childhood best friends decide to start a detective agency. Unfortunately for them, on their first case they must help protect a sexy, high class escort who holds the key evidence to a scandalous cover up. The two bumbling detectives soon find themselves running from the mob, a corrupt US Senator, and a ruthless Mary Poppins-like assassin - all aiming to stop at nothing to hide the truth. It's just an average day for two bumbling losers.