About This Video
---
A clip/trailer of Submarine
Tags
:
Submarine
Type
: Movie Trailer
Views
: 371
This Movie Info
---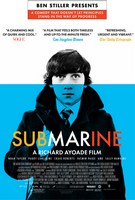 Submarine
Release Date :
June 03, 2011 Limited
Studio :
The Weinstein Company
Director :
Richard Ayoade
Starring :
Craig Roberts, Paddy Considine,
Sally Hawkins
, Yasmin Paige
Fifteen-year-old Oliver Tate has two big ambitions: to save his parents' marriage via carefully plotted intervention and to lose his virginity before his next birthday. Worried that his mom is having an affair with New Age weirdo Graham, Oliver monitors his parents' sex life by charting the dimmer switch in their bedroom. He also forges suggestive love letters from his mom to dad. Meanwhile, Oliver attempts to woo his classmate, Jordana, a self-professed pyromaniac who supervises his journal writing - especially the bits about her. When necessary, she orders him to cross things out. Based on Joe Dunthorne's acclaimed novel, Submarine is a captivating coming-of-age story with an offbeat edge.