About This Video
---

A clip/trailer of Here
Tags
:
Here
Type
: Movie Trailer
Views
: 632
This Movie Info
---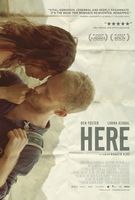 Here
Release Date :
April 13, 2012 Limited
Studio :
Strand Releasing
Director :
Braden King
Starring :
Ben Foster
, Lubna Azabal, Alla Sahakyan, Narek Nersisyan
Will (Ben Foster) is a satellite-mapping engineer conducting a survey of Armenia. One morning at his hotel, he meets Gadarine (Lubna Azabal), an Armenian expatriate and photographer, who has recently returned home. The pair impulsively decide to drive across the country together.
An unlikely love story, "Here" is also a cerebral, self-reflexive road movie that arrives at a fascinating intersection of forms.