About This Video
---

This TV Info
---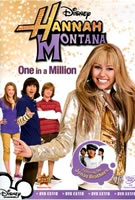 Comments
---

eu amo a hanna e adorei ese video
posted by

fernanda nascimento

on Oct 13, 2010

The music is likeable because it's Miley Cyrus singing, but the video stinks 'cause Miley is rarely seen!
posted by

kreh

on Sep 07, 2010

SELENA GOMEZ IS SOOOOOO MUCH BETTER AND SOOO MUCH PRETTIER!!!!!!!!!!!!!!!!! ;)
posted by

ByeByeBirdie

on Sep 04, 2010

Holy Cow man your rite! Thats soo not cool! But dude the pictures were tight!
posted by

JoeJackson

on Sep 04, 2010

the pictures moving was really sweet. but you couldnt even see her face? i dont think that was her man!
posted by

timmyyjr

on Sep 04, 2010

f
posted by

bob

on Sep 04, 2010