About This Video
---
A clip/trailer of Step Up 3-D
Tags
:
Step Up 3-D
Type
: Movie Trailer
Views
: 17489
This Movie Info
---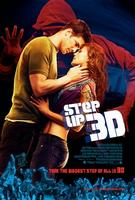 New York's intense street dancing underground comes alive in eye-popping Digital 3D in the third installment of the "Step Up" franchise as the raw, passion-fueled culture goes global. A tight-knit group of street dancers, including Luke (Rick Malambri) and Natalie (Sharni Vinson), team up with NYU freshman Moose (Adam Sevani), and find themselves pitted against the world's best breakdancers in a high-stakes showdown that will change their lives forever.
Comments
---

Best Part of the movie the Conan commercial before it started.
posted by

I Like GOOD movies

on Dec 14, 2010

its shit
posted by

bob marley

on Sep 20, 2010

Ilove dis movie<3
posted by

melo

on Sep 04, 2010

I love this part. :) I wiss they whould of put the part when he was popping the bubbles!!
posted by

Mikki2266

on Aug 28, 2010

i love the whole film but these bit inspired me to start street dance wit mi mate i <3 this film so much <3 <3 x
posted by

chelsea :)

on Aug 28, 2010

i love you:) Luke;) im Poland:)
posted by

Angela

on Aug 21, 2010

i love you:)
posted by

Angela

on Aug 21, 2010

Love the movieeee <3 <3 IT WOULD BEEE SOO MUCH FUN TO STAR IN THIS MOVIE!!!!
posted by

Danielle

on Aug 08, 2010