About This Video
---
A clip/trailer of The Family Tree
Tags
:
The Family Tree
Type
: Movie Trailer
Views
: 1162
This Movie Info
---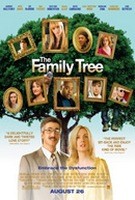 Life in suburban Serenity, Ohio is never quite as serene as it appears. And just when the Burnett family - Bunnie (Hope Davis), Jack (Dermot Mulroney) and their twin 17 year olds Eric (Max Theriot) and Kelly (Britt Robertson) - seems a lost cause, they get an unlikely and unexpected second chance at happiness when an unusual accident leaves Bunnie with a case of amnesia.
For Jack, work has become a disheartening mix of begging for promotion and empty flirting with co-workers. Bunnie intersperses charity work with playful trysts with their next door neighbor Simon Krebbs (Chi McBride). When one of these liaisons leaves Bunnie unconscious, her memory loss confuses everyone - but no one more than Bunnie, who cannot remember her bad marriage, her children or even the affair that caused her amnesia.
Bunnie's new 'lack of awareness' masks the Burnett's problems for awhile. And with Jack getting his long-sought promotion and "new Bunnie" feeling closer to Jack and her children than ever, things seem to be finally settling in for the family. But before long, a stew of past relationships, kids with guns, suicidal teachers, a very zealous religious club, misinterpreted advances, corporate down-sizing, and one very tricky mother in law combine create enough mayhem to test the resolve, sanity and future of any family!
The Family Tree is a hilarious and touching, offbeat but timely and ultimately uplifting comedy which explores the frailties and complexities of the contemporary American family - and what it takes to survive in a suburban jungle fraught with loaded weapons, star-crossed lovers, teens run amok, religious intolerance, and even a voyeur or two in the mix.
After all, every family has its hang-ups.