About This Video
---

This Movie Info
---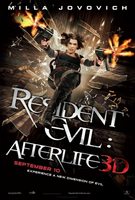 In a world ravaged by a virus infection, turning its victims into the Undead, Alice (Milla Jovovich) continues on her journey to find survivors and lead them to safety. Her deadly battle with the Umbrella Corporation reaches new heights, but Alice gets some unexpected help from an old friend. A new lead that promises a safe haven from the Undead takes them to Los Angeles, but when they arrive, the city is overrun by thousands of Undead and Alice and her comrades are about to step into a deadly trap.
Comments
---

Nice Work GUYS IN THE FLIM OF RESIDENT EVIL AFTERLIFE
posted by

Alex

on Jun 03, 2010
3
posted by

omar

on Apr 21, 2010

2
posted by

omaer

on Apr 21, 2010

Adding RE5 game in the mix of this move??? I only hope the best scenes in the movie is not only shown in this trailer. Convincing trailer for me to go see it...
posted by

CoolBreeze

on Apr 20, 2010

so far by what i see BEST resident evil out of the 4.hmm......what role do wesker have?i also notice that wesker & claire was in resident evil extinction.will claire do another cameo?NICE TOUCH on the executioner
posted by

kyuubi

on Apr 12, 2010

WANT TO SEE MORE
posted by

A FAN

on Apr 07, 2010
Ausome
posted by

luigi

on Apr 07, 2010