About This Video
---
A clip/trailer of The Descent: Part 2
Tags
:
The Descent: Part 2
Type
: Movie Trailer
Views
: 1102
This Movie Info
---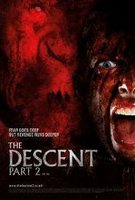 The Descent: Part 2
Release Date :
December 02, 2009 UK
Studio :
Celador Films
Director :
Jon Harris
Starring :
Shauna Macdonald, Natalie Mendoza, Gavan O'Herlihy,
Josh Dallas
The sequel to one of the most intense, unpredictable and thrilling horror films of the decade picks up immediately after the events of "The Descent".
When Juno (Natalie Mendoza) and her five friends fail to surface from their caving expedition in the Appalachian mountains, a search party is deployed to track them down.
As the fate of the women becomes desperate, Sarah (Shauna Macdonald), miraculously emerges from a cave system miles from the one the women were supposed to be exploring. Beaten, distraught and covered in the blood of her missing companies, Sarah is incoherent and half-wild with fear. Sceptical about her account of events and convinced Sarah's psychosis hides far darker secrets, Sheriff Vaines (Gavan O'Herlihy) forces her back into the caves to help locate the rest of the group.