About This Video
---

A clip/trailer of The Last Airbender
Tags
:
The Last Airbender
Type
: Movie Trailer
Views
: 2654
This Movie Info
---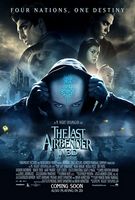 Air, Water, Earth, Fire. Four nations tied by destiny when the Fire Nation launches a brutal war against the others. A century has passed with no hope in sight to change the path of this destruction. Caught between combat and courage, Aang (Noah Ringer) discovers he is the lone Avatar with the power to manipulate all four elements. Aang teams with Katara (Nicola Peltz), a Waterbender, and her brother, Sokka (Jackson Rathbone), to restore balance to their war-torn world.
Comments
---

I remember the cartoon from yrs ago my husband an I are over 50 I saw this movie last wk be four thks giving an I loved it. I would love to see Aang find the fire prince an his uncle just to see what they are to an may be they would hook up an help Aang beat the fire princes.
posted by

mary.mcclendon2003@y

on Nov 28, 2010

This is very good thank you ...
posted by

Jamie Rennie

on Mar 04, 2010