About This Video
---

This Movie Info
---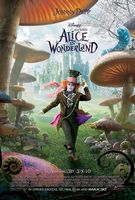 From Walt Disney Pictures and visionary director Tim Burton comes an epic 3D fantasy adventure "Alice in Wonderland," a magical and imaginative twist on some of the most beloved stories of all time.
Johnny Depp stars as the Mad Hatter and Mia Wasikowska as 19-year-old Alice, who returns to the whimsical world she first encountered as a young girl, reuniting with her childhood friends: the White Rabbit, Tweedledee and Tweedledum, the Dormouse, the Caterpillar, the Cheshire Cat, and of course, the Mad Hatter.
Alice embarks on a fantastical journey to find her true destiny and end the Red Queen's reign of terror. The all-star cast also includes Anne Hathaway, Helena Bonham Carter and Crispin Glover; Linda Woolverton wrote the screenplay.
Comments
---
damn.................. its so amazing..... i love this video......
posted by

fifi

on Apr 26, 2011

wat a beautiful video!!!!shot in lovely colours!!!avril looks just beautiful in it..great music and choreography...throughly loved it
posted by

leah

on Apr 14, 2010

i enjoy it!!!
posted by

anna95

on Apr 11, 2010

Very great*****
posted by

Elis

on Apr 10, 2010

My friend and I are doing a remake of it do this is helpful. thanks!
posted by

Kaitlyn

on Mar 18, 2010

so great ... love it
posted by

Wisdajeny

on Mar 11, 2010

greatttt...
posted by

leLoh

on Mar 06, 2010