About This Video
---
A clip/trailer of Once Fallen
Tags
:
Once Fallen
Type
: Movie Trailer
Views
: 5619
This Movie Info
---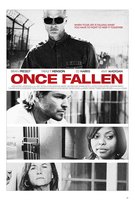 "Once Fallen" follows Liam (Ed Harris) and his son Chance (Brian Presley) battling over issues of loyalty and family, after they leave behind their gritty lives in prison. Grappling with clashing ideologies, the two men struggle to assert themselves while still trying to keep their family alive.
Comments
---

Looks awesome, will definitely see this one!
posted by

tran

on Apr 08, 2010

Faheem is a downer...This movie totally looks hot! It's intense, I can't wait to see it!
posted by

percy

on Mar 13, 2010

I bet Taraji and Brian will make a hot couple. ;-) BW/WM couples are the sexist!! I may watch just for them, even though crime/gangster/prison/gore movies aren't my cup of tea. I tend to like my thrillers more psychological and usually with the violence implied.
posted by

cutie pie

on Feb 25, 2010

Keegan Thomas is so cute! Always has had the girls running around him on the playground!
posted by

The Platts

on Feb 23, 2010

LOVE IT LOVE IT LOVE IT THATS ALL IM SAYING I AM GOING TO THIS MOVIE FOR REAL LOVE IT!!!!!!!!!!
posted by

love it

on Feb 20, 2010

this trailer is amazing.it has everything i love in a movie crime drama faimly and an unfrobidden love this is rhe movie to see 100% i am going to see this movie no doubt!!! you all should to!!
posted by

love this movie 100%

on Feb 20, 2010

The trailer builds up nicely and keeps it pretty interesting.
posted by

Johan Reahns

on Feb 19, 2010

Once fallen,Movie I think it is Flop.DONT WATCH IT.
posted by

Faheem Siyal

on Feb 18, 2010