About This Video
---
Behind the scene of Dear John
Tags
:
Dear John
Type
: Behind the Scene Video
Views
: 3638
This Movie Info
---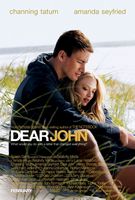 Directed by Lasse Halstrom and based on the novel by best-selling author Nicholas Sparks, "Dear John" tells the story of John Tyree (Channing Tatum), a young soldier home on leave, and Savannah Curtis (Amanda Seyfried), the idealistic college student he falls in love with during her spring vacation. Over the next seven tumultuous years, the couple is separated by John's increasingly dangerous deployments. While meeting only sporadically, they stay in touch by sending a continuous stream of love letters overseas-correspondence that eventually triggers fateful consequences.
Comments
---

excellent movie :)
posted by

Trizzlee

on Apr 08, 2010

I love this movie so much. I;t is my favorie mavie and hohn is so cute!
posted by

Kate

on Mar 12, 2010

I must say that ever since i have seen this movie; i feel like ive been obsessed with it because i can relate to it on a certain level. Love is not an easy subject and at one point in our lives; we all will experience its ups and downs. this movie really hit home for me, as im sure it will for many others.
posted by

nataliee

on Mar 02, 2010

so sad. but so good.
posted by

Megan

on Feb 11, 2010