About This Video
---
This Movie Info
---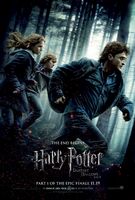 "Harry Potter and the Deathly Hallows," the seventh and final adventure in the Harry Potter film series, is a much-anticipated motion picture event to be told in two full-length parts.
Part 1 begins as Harry, Ron and Hermione set out on their perilous mission to track down and destroy the secret to Voldemort's immortality and destruction-the Horcruxes. On their own, without the guidance of their professors or the protection of Professor Dumbledore, the three friends must now rely on one another more than ever. But there are Dark Forces in their midst that threaten to tear them apart.
Meanwhile, the wizarding world has become a dangerous place for all enemies of the Dark Lord. The long-feared war has begun and Voldemort's Death Eaters seize control of the Ministry of Magic and even Hogwarts, terrorizing and arresting anyone who might oppose them. But the one prize they still seek is the one most valuable to Voldemort: Harry Potter. The Chosen One has become the hunted one as the Death Eaters search for Harry with orders to bring him to Voldemort...alive.
Harry's only hope is to find the Horcruxes before Voldemort finds him. But as he searches for clues, he uncovers an old and almost forgotten tale-the legend of the Deathly Hallows. And if the legend turns out to be true, it could give Voldemort the ultimate power he seeks.
Little does Harry know that his future has already been decided by his past when, on that fateful day, he became "the Boy Who Lived." No longer just a boy, Harry Potter is drawing ever closer to the task for which he has been preparing since the day he first stepped into Hogwarts: the ultimate battle with Voldemort.
Comments
---

I like "harry potter" harry potter is the best
posted by

rofita

on Feb 18, 2011

I luv it! Anothr hit again! U r gud. U rock. Cnt wait 2 c u wth my frndz (who il b dragin 2 da movie theatre) on the big screen! Frm south africn fan, i wish only da best 4 u all! Yes, even u prf. Snape..
posted by

Kagiso diale

on Oct 14, 2010

I liKe harRy potTer ,i hope harRy potTer nOvel n filL wilL be succes.aminNn
posted by

Dewi

on Jul 09, 2010
I've been a Harry Potter fan, having read all the books since the beginning. I'm now 77, and I hope I live long enough to see it through to the end.
posted by

rickshawsan

on Jun 28, 2010
BECAUSE I REALY TOO LOVE YOU.AKASH
posted by

AKASH

on Jun 16, 2010

I LOVE YOU EMMA. I GOT YOU IN EVERY CONDITION IN FUTURE. IT'S MY CHALLANGE FOR YOU,REMEMBER IT.AKASH
posted by

AKASH

on Jun 16, 2010

LUVED HP SINCE I WAS 11 NOW IM 23 AND STILL LUV IT! THATS HOW GOOD THE MOVIE IS!!!!!!!!!!!!
posted by

irock1

on May 28, 2010

Gosh!this is it... d end of d beginning...cant wait to see ron kiss hermione...haha! totally love hp!
posted by

lianne_radcliffe

on May 06, 2010
i really love this movie! since i was in my high school years! i hope that the author could another chapter for the story for us to learn more about the life of Harry potter! i hope that the fever never end!
posted by

charleston

on May 04, 2010

i have been a harry potter fan my whole life and i think this is going to be the best movie yet..... and like i like the actor who plays harry but i don't think he is cute or hott worth crap but still can't wait to see it!!!!! love you guys!!
posted by

HDTV

on Apr 28, 2010

cant wate to see it but take mick with it come out nov 11 thorw when thay make it all ready now
posted by

david

on Apr 19, 2010

Oh Shit!!!Hp 7 is on,cant believe it.gotta watch it the day it comes out,sweet.
posted by

Kenji

on Apr 14, 2010

Oh - does everyone know that DH is being split into 3 parts?
posted by

Hermione_G

on Apr 10, 2010

I'm a Potter fan who loves anything Potter - it's great
posted by

Hermione_G

on Apr 10, 2010

i like that,,,,so cool... and interesting
posted by

ruth

on Apr 09, 2010

I'm looking forward to seeing it. I am sure that it will be a thrill!
posted by

Irene

on Apr 05, 2010
i am totally freaking out right now!!!! cant wait!!!
posted by

lulu

on Mar 21, 2010

this movie will be extrordinary and epic
posted by

hp fan

on Mar 18, 2010

Sigh.... has the 7nth movie come really? It's seem like only yesterday that I saw 11year old Daniel acting in those very round glasses under the cupboard.
posted by

Harryrox

on Mar 02, 2010

AWESOME!!!1
posted by

77HP

on Feb 27, 2010

it's bad coz it wil be the last tym that i'm going to see hermione granger...but...really 'm gona watch for it...
posted by

silverem

on Feb 24, 2010

1 it probaly will not break recoreds xept 2 us 2 those r his kids and apperations created by the stone depending on what partyour talking about 3 ive got my room all planed to look like the commen rom /his part of the dorm 4 hek yeh it looks awesome i cant wait to c it
posted by

pr

on Feb 21, 2010

Movie will break all Records may be Even Break Avatar,s Record too.MUST WATCH IT
posted by

Faheem Siyal

on Feb 18, 2010

THE END IS HARRY'S PARENTS ARE ALIVE TRRUST ME I READ THE BOOK
posted by

LEANN NGUYEN

on Feb 17, 2010

LOVE IT!!!!!!!
posted by

LisaMarie

on Feb 13, 2010

it looks amazing cant wait to see it
posted by

lilly

on Feb 09, 2010

just looking at the first minute makes me excited!!!!!!!!!!!!!
posted by

Biggest Harry Potter

on Feb 06, 2010

cant wait 4 dis HP!! it luks SO cul! gott admit,i ll watch it lke with pleasure!! lol n eclipse n percy jackson 2 ofcourse!
posted by

Alia

on Feb 04, 2010

can't wait for the hp and the dh to come out it is pure torture for it to be seperated but lets hope and pray that it wasn't like hp and the ootp which was cut way to short and didnt say anything
posted by

joannabanana

on Jan 22, 2010

WOOOOOOOOOOOO!!!! i am the biggest HP fan in the world and cant wait for the next movie to come out :D
posted by

somebody...

on Jan 17, 2010

I cannot wait for this movie to come out! It's going to be sad to see the series to come to an end, but I'm glad that we'll get to see this epic book on the big screen.
posted by

tomfeltonlove

on Jan 15, 2010

Wow! I am so anxious for the movie to come out now. I cannot wait! I Hope that the last two parts of the movie are very like the book!
posted by

SB-HPfan

on Jan 09, 2010

Im going to buy a book of it coz for sure...its nice to read it also..i already know what the ending is!!!i also knew what deathly hallows is all about there..including the invisibility cloak,the elder wand and the resurrection stone!!!its so magical!!i cant wait any longer to watch this film!!!
posted by

gorgeous-shana

on Jan 09, 2010

everyone should watch this movie!! it was going to be a great film!! i wonder why harry potter and the half blood prince never made to the top 1!! transformers and avatar beat harry potter!!! its unbelievable!!! to all those harry potter addicts,let's make a revenge!!!hehehe
posted by

gorgeous-shana

on Jan 09, 2010

excellent!!! gunna be great, love the fact its in 2 movies - makes the magic last a bit longer - and there is alot in the final book to cover so better to be 2 movies than one that is bumbled through.
posted by

potter

on Jan 09, 2010

its amazing ausumn
posted by

deathly hallows part

on Jan 05, 2010
At 47 I've found the Harry Potter Movies entertaining, yet to stretch out the showing of these movies to beat out another movie is dull and disingenuous. So with saying that when this series comes to a conclusion it will be great in a rude way. Give the Fans what they want not torture them financially.
posted by

BlackAnvil47

on Jan 03, 2010

Me too! Read the book like 3 times but still.. I really want 2 see the movie!! Can't wait 4 it! I'm really looking forward 2 seeing Hermione getting tortured by Bellatrix. Cuz it can really show tat Emma is an amazing actress!! I luv her...She my idol. I hope it will be a really good movie and takes out alot out from the book.
posted by

suju96

on Dec 26, 2009

i've read the books over n over but can't seem to get enough n am desperately waitin' for the movie to be released. i'm sure it'll be just as brilliant (or even better) than the book n i'm definitely watching out if Dan's getting naked.
posted by

Anonymous

on Dec 08, 2009