About This Video
---
This Movie Info
---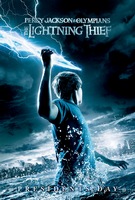 It's the 21st century, but the gods of Mount Olympus and assorted monsters have walked out of the pages of high school student Percy Jackson's Greek mythology texts and into his life. And they're not happy: Zeus' lightning bolt has been stolen, and Percy is the prime suspect. Even more troubling is the sudden disappearance of Percy's mother. As Percy finds himself caught between angry and battling gods, he and his friends embark on a cross-country adventure to catch the true lightning thief, save Percy's mom, and unravel a mystery more powerful than the gods themselves.
Comments
---

i Cant wait for february 12, gods were are you Febr. 12!!! i read all the books and they are amazing i highly recommend them to everyone it doesn't matter what age you are as long as you are big enough to read.:)
posted by

Can\'t wait!!

on Jan 09, 2010

YESSSSSSS!!!!!!!!!!!!!!! i cant wait i read every book!
posted by

totally stoked

on Dec 15, 2009