About This Video
---

This Movie Info
---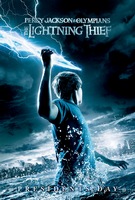 It's the 21st century, but the gods of Mount Olympus and assorted monsters have walked out of the pages of high school student Percy Jackson's Greek mythology texts and into his life. And they're not happy: Zeus' lightning bolt has been stolen, and Percy is the prime suspect. Even more troubling is the sudden disappearance of Percy's mother. As Percy finds himself caught between angry and battling gods, he and his friends embark on a cross-country adventure to catch the true lightning thief, save Percy's mom, and unravel a mystery more powerful than the gods themselves.
Comments
---

wonder full book wonderfull movie
posted by

percy lover

on Jan 26, 2010

wow i am so going to see it in theaters!!!!!!!!!!!
posted by

hot spot 97

on Nov 22, 2009

How wonderful that this fantastic book series is finally coming to the screen. As a teacher I have seen many children become thrilled and captivated by the adventures of Percy, Annabeth, and Grover. The trailers look fantastic and make it that much harder to wait until 2/12/10. My 14 yr. old son and I will also see this on opening day at least once, maybe twice. And then again while it is still in the theaters. Thank you Chris Columbus for bringing us the start of a new book to movie series that will be every bit as good as Harry was. Thank you Rick Riordan for bringing Percy and Olympus to America and the Empire State Building.
posted by

suzk

on Nov 21, 2009

i so cant wate to wach the move once i started to read the series i was hopeing it was guna be a move im guna see it the day it comes out im guna be the first in the theater before anyone gods this looks like its guna be a great move i wish i could be in it
posted by

robert

on Nov 21, 2009

it guna suck if they dont make the rest of the moves and if they do it is guna be hard to wate that long (like 2years between eachone to come out)there is alot of stuff i seen in the trailer that wasnt even close to the book like riptide is silver anebeth isnt blond and he uses the lightning bolt as a wepon but i dont care its still guna be a fantastic series to wach over and over it will never get old i dont think many people will wach it because they dont think it looks that good like my dad but they never read the series but im guna also buy it the day it comes out (ON BLU-RAY it will look awesome on my screen tv cant wate
posted by

robert

on Nov 21, 2009