About This Video
---

A clip/trailer of Answer This!
Tags
:
Answer This!
Type
: Movie Trailer
Views
: 2244
This Movie Info
---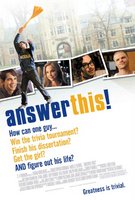 A brilliant trivia whiz, Paul Tarson is great at answering little questions, but horrible at answering the big ones - like what's he going to do with his life after grad school?
Now he and his friends will finally get a shot at beer, women and nerdy redemption when they enter the biggest challenge of their lives... a citywide pub trivia tournament. But when Paul falls for a smart young undergrad girl, will he find out that the little things are bigger than he bargained for?
Set at the University of Michigan in the world of competitive pub trivia, "Answer This!" is the story of a boy finally coming of age - when he's 30.