About This Video
---
This Movie Info
---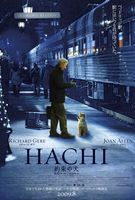 This heartwarming true story is an American adaptation of a Japanese tale about a loyal dog named Hachiko. This very special friend would accompany his master to the train station every day and return each afternoon to greet him after work. Sadly his master departs one day, passes away and never returns to the station. Hachiko faithfully returns to the same spot at the station the very next day, and every day for the next nine years to wait for his beloved master.
During his daily visits, Hachiko touches the lives of many who work near and commute through the town square. He teaches the local people love, compassion and above all unyielding loyalty. Today, a bronze statue of Hachiko sits in his waiting spot outside the Shibuya station in Japan as a permanent reminder of his devotion and love.
Comments
---

dwayne bonello how love this movie hachiko a dogs story and i love richard gere in this movie and its amazing 5stars!
posted by

dwayne bonello

on May 23, 2012

even i have a dog thank to god they less life then human.but that would be the most touching moments for the whole life.
posted by

gi

on Dec 10, 2011

this movie is amazing a cried my little heart oout, especially when he goes to the train station everyday infact i want this movie for christmas x
posted by

kathryn

on Dec 13, 2010

i cried when i watched this movie it is so good
posted by

kathryn

on Dec 13, 2010

I was so moved to tears when watching this movie ... this movie ..... very good drama to watch ..... so in pity if not watch this movie
posted by

Nelly

on Sep 24, 2010

I cried on the plane when we went to Portugal. We weren't planning to see a movie, we just watched and were overwhelmed. I'm a grown man, but this moved me a lot
posted by

johan

on Sep 11, 2010

Watch this movie with your best pet friend! So, so good!
posted by

anna

on Feb 10, 2010

very touching
posted by

honey

on Jan 15, 2010