About This Video
---
A clip/trailer of Dear John
Tags
:
Dear John
Type
: Movie Trailer
Views
: 19283
This Movie Info
---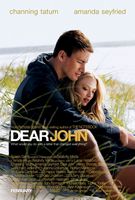 Directed by Lasse Halstrom and based on the novel by best-selling author Nicholas Sparks, "Dear John" tells the story of John Tyree (Channing Tatum), a young soldier home on leave, and Savannah Curtis (Amanda Seyfried), the idealistic college student he falls in love with during her spring vacation. Over the next seven tumultuous years, the couple is separated by John's increasingly dangerous deployments. While meeting only sporadically, they stay in touch by sending a continuous stream of love letters overseas-correspondence that eventually triggers fateful consequences.
Comments
---

this movie is truely amazing i seen it and loved it. Channing tatum made this movie. at first i wasnt sure how amanda and him were going to be but the made it seem so real. what a good movie.. Job well done
posted by

amanda

on Apr 15, 2010

anyone know when this movie will be out in the cinema in the uk?;P
posted by

toe-may-toe

on Mar 10, 2010

good, great movie.. gotta.. seee!!!!!!!!!
posted by

kirstan

on Mar 02, 2010
my mom has that book of it and she hasnt read it yet.
posted by

teeteemomo

on Feb 20, 2010
that was good but that was sad when they couldnt see eacter.
posted by

teeteemomo

on Feb 20, 2010

i love it read the book cant wait going to get tickets in advance cause i know they will be sold out. cant wait yay
posted by

sabrinag17

on Jan 23, 2010

this trailer gives me goosepumps =,[ i cant wait !
posted by

sherylle

on Jan 21, 2010

i know me too! gives me major goosebumps... cant wait to see it!!!
posted by

doggroomer

on Jan 21, 2010

ohh emm gee i agree wut genny diz movie is poppin itz sexii specially da guy so sexy
posted by

La DiiAbLiiTa

on Jan 14, 2010

I read the book at it was great, so if the movie is like the book it should be fantastic
posted by

Melanie Joyce

on Jan 14, 2010

i love dis movie when it come out i am goin 2 keep goin bck nd for 2 c it
posted by

genny

on Jan 13, 2010

i love it so much
posted by

genny

on Jan 11, 2010

this movie is sexii nd itz da same story i am going throw. the best movie of 2010
posted by

genny

on Jan 11, 2010

Very great story line this movie shows what it's liek for every soldier that has had to leave there girlfriend or families..
posted by

Sakundiak91

on Nov 27, 2009