About This Video
---
A clip/trailer of 2012
Tags
:
2012
Type
: Movie Trailer
Views
: 4121
This Movie Info
---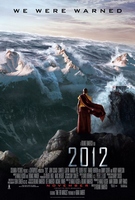 Never before has a date in history been so significant to so many cultures, so many religions, scientists, and governments. "2012" is an epic adventure about a global cataclysm that brings an end to the world and tells of the heroic struggle of the survivors.
Comments
---

very nice
posted by

hello

on Nov 20, 2009

very.............god
posted by

chetan

on Oct 27, 2009

excellent, can't tell in words
posted by

2012(featurette)

on Oct 16, 2009

Only three years away. We have to be ready.
posted by

kjg

on Oct 10, 2009