About This Video
---
A clip/trailer of Paranormal Activity
Tags
:
Paranormal Activity
Type
: Movie Trailer
Views
: 6878
This Movie Info
---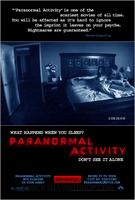 After a young, middle class couple moves into what seems like a typical suburban "starter" tract house, they become increasingly disturbed by a presence that may or may not be somehow demonic but is certainly most active in the middle of the night. Especially when they sleep. Or try to.
Comments
---

dwayne bonello i love this movies and i will them paranormal activiy 1,2,3,4 and i will give 5 stars!
posted by

dwayne bonello

on Oct 15, 2012

it is good
posted by

dave

on Aug 24, 2010

pretty good flick
posted by

trance

on Jan 07, 2010

Scariest movie I have ever seen. I was shaking by the time it was over.
posted by

SarahD

on Nov 07, 2009

Looks like it gonna give Ghost Hunters a new following
posted by

nospanku

on Sep 30, 2009