About This Video
---
A clip/trailer of The Chaperone
Tags
:
The Chaperone
Type
: Movie Trailer
Views
: 1086
This Movie Info
---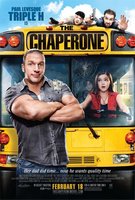 The Chaperone
Release Date :
February 18, 2011 Limited
Studio :
Samuel Goldwyn Films
Director :
Stephen Herek
Starring :
Triple H
,
Ariel Winter
, Annabeth Gish, Kevin Corrigan
All that former getaway-driver Ray Bradstone (WWE Superstar Paul "Triple H" Levesque) wants is to start a new life and patch things up with his daughter Sally (Ariel Winter, Modern Family). Unable to find honest work, he reluctantly agrees to do one last job with his old bank-robbing crew, led by Phillip Larue (Kevin Corrigan, Superbad). But when the opportunity arises to be a "chaperone" on Sally's school field trip, Ray resolves not to repeat his past mistakes and leaves the crew in the lurch.
When the robbery goes awry and the money ends up on the school bus, Larue chases them all around New Orleans, with the police in hot pursuit. Now Ray must stay one step ahead of Larue, the cops and 30 out-of-control teenagers all whilst trying to spend a little bit of quality time with his daughter on one of the craziest field trips ever!