About This Video
---
This Movie Info
---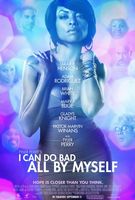 When Madea, America's favorite pistol-packing grandma, catches sixteen-year-old Jennifer and her two younger brothers looting her home, she decides to take matters into her own hands and delivers the young delinquents to the only relative they have: their aunt April.
A heavy-drinking nightclub singer who lives off of Raymond, her married boyfriend, April wants nothing to do with the kids. But her attitude begins to change when Sandino, a handsome Mexican immigrant looking for work, moves into April's basement room. Making amends for his own troubled past, Sandino challenges April to open her heart. And April soon realizes she must make the biggest choice of her life: between her old ways with Raymond and the new possibilities of family, faith...and even true love.
An uplifting drama infused with music and Tyler Perry's trademark mixture of laughter and heart, "I Can Do Bad All by Myself" stars Perry, Taraji P. Henson, Brian White, Hope Olaide Wilson, Adam Rodriguez, Kwesi Nii-Lante Boakye and Frederick Siglar, and features dramatic and musical performances by Gladys Knight, Marvin Winans and Mary J. Blige, who performs an original song penned by chart-topping R&B writer/performer/producer, Ne-Yo.
Comments
---

This movie was awesome, if you are going through a tough time, this movie will help you in so many ways.The cast for this movie was very good. The singing was also great, Tyler did a very good job.
posted by

Miss.O

on Sep 19, 2009

this movie was amazing i think everyone needs to go see it!!
posted by

xheyxhaleyx

on Sep 18, 2009