About This Video
---

A clip/trailer of Yesterday Was a Lie
Tags
:
Yesterday Was a Lie
Type
: Movie Trailer
Views
: 608
This Movie Info
---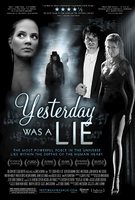 Yesterday Was a Lie
Release Date :
December 11, 2009 Limited
Studio :
Helicon Arts Cooperative
Director :
James Kerwin
Starring :
Kipleigh Brown, Chase Masterson, John Newton, Mik Scriba
A groundbreaking new noir film from award-winning writer/director James Kerwin, YESTERDAY WAS A LIE combines the thrills of a classic detective mystery with the imagination of science fantasy.
Hoyle (Kipleigh Brown) - a girl with a sharp mind and a weakness for bourbon - finds herself on the trail of a reclusive genius (John Newton). But her work takes a series of unforeseen twists as events around her grow increasingly fragmented... disconnected... surreal.
With an ethereal lounge singer (Chase Masterson) and her loyal partner (Mik Scriba) as her only allies, Hoyle is plunged into a dark world of intrigue and earth-shattering cosmological secrets. Haunted by an ever-present shadow (Peter Mayhew) whom she is destined to face, Hoyle discovers that the most powerful force in the universe - the power to bend reality, the power to know the truth - lies within the depths of the human heart.