About This Video
---
A clip/trailer of Untitled
Tags
:
Untitled
Type
: Movie Trailer
Views
: 782
This Movie Info
---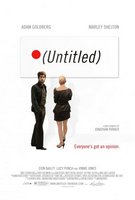 In this smart, satirical comedy, a brooding avant-garde composer falls for the gorgeous owner of a trendy New York art gallery and the quirky worlds of contemporary art and music are set on a hilarious collision course.
Directed by Jonathan Parker (Bartleby) from a screenplay he co-wrote with Catherine di Napoli (Bartleby), (Untitled) stars Adam Goldberg (2 Days in Paris, "Entourage"), Marley Shelton (Grindhouse, Pleasantville), Eion Bailey (Fight Club, "Band of Brothers") and Vinnie Jones (Lock, Stock and Two Smoking Barrels).
Set in the artsy Chelsea neighborhood of Manhattan, (Untitled) tells the story of Adrian Jacobs (Goldberg), a difficult composer of equally difficult music whose sparsely attended performances involve musicians breaking glass and kicking metal buckets. In contrast, Adam's brother, Josh (Bailey), is a commercially successful painter of vapid canvasses that corporate clients snap up by the dozen. But, Adrian's luck appears set to change when Josh brings the stunning Madeleine (Shelton) to one of his concerts. Not only does she embrace his work and ask him to perform at her gallery, she invites him into her bed. As the two embark on a fiery affair, Adrian is introduced to a world of pretentious art collectors, dueling gallerists and eccentric artists, including Ray Barko (Vinnie Jones), whose bizarre creations include chandeliers of stuffed animals and dead cows draped with jewelry.
When Josh discovers Adrian and Madeleine's relationship and Madeleine refuses to exhibit Josh's paintings-even though the money they bring in is what keeps the gallery afloat-the stage is set for a showdown as comedic and discordant as Adrian's music.