About This Video
---
A clip/trailer of District 9
Tags
:
District 9
Type
: Movie Trailer
Views
: 999
This Movie Info
---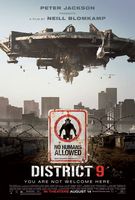 District 9
Release Date :
August 14, 2009
Studio :
Sony Pictures Entertainment
Director :
Neill Blomkamp
Starring :
Jason Cope,
Sharlto Copley
, David James, Mandla Gaduka
An extraterrestrial race forced to live in slum-like conditions on Earth suddenly find a kindred spirit in a government agent that is exposed to their biotechnology.
The aliens are called the 'Non-Humans' and are forced to work the Multi National United company (MNU for short). A kind of apartheid discriminating the non-humans has been enforced. Throughout the film, the Non-Humans will try to free themselves from MNU's grasp.