About This Video
---
This Movie Info
---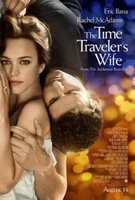 Eric Bana ("Munich") and Rachel McAdams ("Wedding Crashers," "The Notebook") star in the drama "The Time Traveler's Wife," based on the bestselling novel by Audrey Niffenegger. In the film, Bana portrays a man with a time-traveling gene who manages to appear and re-appear at different times in the life of his one true love (McAdams).
Comments
---

good
posted by

tom

on Dec 10, 2009

AWESOME!!! Loved the Movie and Love this Song!
posted by

I Love LOVE!

on Sep 27, 2009

Love the book, love the film. The vid just reminds me of it all, rather beautifully.
posted by

Cat

on Sep 14, 2009

I' Love LifeHouse LifeHouse in Brasil
posted by

Carla Bruna

on Sep 06, 2009

aww, that almost made me cry. What a beautiful looking film. Now I want to see it. BADLY. and the song fits so well with the movie. Simply beautiful. And Adam, you're an idiot.
posted by

seiya

on Aug 30, 2009

Excellent song for an excellent movie. <3 Love it!!
posted by

Anonymous

on Aug 26, 2009

I love this movie..and I love this song. :)
posted by

<3

on Aug 19, 2009

1st! Lifehouse rocks
posted by

Andy V

on Aug 18, 2009