About This Video
---
This Movie Info
---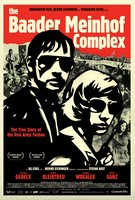 The Baader Meinhof Complex
Release Date :
August 21, 2009 Limited
Studio :
Vitagraph Films
Director :
Uli Edel
Starring :
Martina Gedeck, Moritz Bleibtreu, Johanna Wokalek, Bruno Ganz
Germany in the 1970s: Murderous bomb attacks, the threat of terrorism and the fear of the enemy inside are rocking the very foundations of the still fragile German democracy. The radicalised children of the Nazi generation led by Andreas Baader (Moritz Bleibtreu), Ulrike Meinhof (Martina Gedeck) and Gudrun Ensslin (Johanna Wokalek) are fighting a violent war against what they perceive as the new face of fascism: American imperialism supported by the German establishment, many of whom have a Nazi past ... The man who understands them is also their hunter: the head of the German police force Horst Herold (Bruno Ganz).