About This Video
---
Behind the scene of Cheri
Tags
:
Cheri
Type
: Behind the Scene Video
Views
: 1351
This Movie Info
---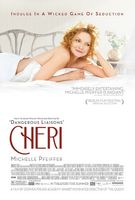 It all begins as Lea de Lonval (Pfeiffer) realizes that the time has come for her to retire as Paris's most envied seductress of the rich and famous. After all, though she's still breathtaking, she's not exactly getting any younger. Just as she starts wondering what her future holds, along comes her archrival Charlotte Peloux (Kathy Bates), a notoriously manipulative gossip, with an unusual proposition. It seems that Charlotte's 19 year-old son - a bon vivant nicknamed Cheri (Friend) - is gorgeous, charming and complete disappointment to her. Fed up with his petulance, Charlotte slyly suspects Lea can knock some sense into the boy with her worldly ways.
But Lea does far more than that and six years later, she and Cheri are still living together in a most outrageous fashion. Naturally, they know this state of affairs can't go on forever. But when Charlotte Peloux to match Cheri to a girl his own age for marriage and break up their adventuresome tryst, no one is prepared for what truly lies beneath their frivolous affair.