About This Video
---
A clip/trailer of The Pacific
Tags
:
The Pacific
Type
: TV Clip
Views
: 5734
This TV Info
---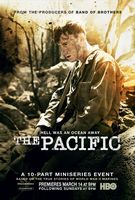 Comments
---
The look of the trailer is very Terrence Mallick "Thin Red Line"
posted by

doodlebug

on Feb 06, 2010

My father was in the army and fought in the pacific in WWII. It was long before I was born in 1960 and my dad never would talk much about those times and due to my parents being divorced I did not know him real well but I so adored him. This movie will give me a chance to see a part of his life that made him the man he was and a time he could not talk about to me.
posted by

Daughter of a army v

on Jan 01, 2010

thanks to all vets -for my freedoms
posted by

son of a marine

on Nov 18, 2009

My father was in the 43rd Infantry Division in the Pacific and made 11 contested landings. I am glad this will show what people like him went through. I would only point out that the less elite soldiers also did their share.
posted by

WKMcintosh

on Nov 13, 2009

Agreed! The preview alone is worth the price of admission. And to my 32 year bretheren ... a crisp snap of salute ... thank you for your service.
posted by

Dog tag 1

on Jul 01, 2009

I LOVED BAND OF BROTHERS, I KNOW I WILL LOVE THE PREVIEW ALONE MADE LOCK IN. RETIRED ARMY 32 YEARS. CARRY ON TOM HANKS. THANKYOU
posted by

perkasiewalt

on Jun 28, 2009