About This Video
---
This Movie Info
---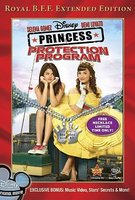 When Princess Rosalina (Lovato) is threatened by an evil dictator bent on taking control of her country, she is whisked away and placed into the Princess Protection Program, a secret agency that watches over imperiled princesses around the world.
Mason, an agent with the program, hides Princess Rosalina in his own home where, with the help of his daughter Carter (Gomez), she adopts the cover of an ordinary teen named Rosie. An insecure tomboy, Carter works at a local bait shop after school and dreams of going to the school dance with her crush, Donny, the school hunk.
Rosie quickly becomes popular at school which Carter must learn to accept but the two also form a close bond as Carter helps Rosie transform into a normal teenager and Rosie shows Carter how to find the princess within herself.
Comments
---

i wantto be a star and sing like you guys so if you can i live in pa 3323 reese st
posted by

sahara

on Apr 06, 2011

i love demi lavato and selena gomez
posted by

acer

on Sep 13, 2009

very good
posted by

mita

on Aug 29, 2009

THIS SONG AND VIDEO ARE AWESOME!!I LOVE SELENA AND DEMI THEY ARE THE GREATEST EVER!!!!
posted by

nickjonaslover

on Jul 10, 2009

SELENA GOMEZ AND DEMI LOVATO ROCK THIS VIDEO!!!! THEY MAKE SUCH A GOOD TEAM!!!!!!
posted by

becca

on Jul 07, 2009

SELENA GOMEZ AND DEMI LOVATO!!!!!!!!!!!!!YOU BOTH ARE THE BEST FOREVER!!!!!!!!!!!ILOVE YOU!!!!!!
posted by

i love it!!!!!!!!!!!

on Jul 03, 2009

Bella Archer I have a better name for this video. It's my EAL name yes Selena Demi Carlenns is! I hate my last name, though! ROCK ONT SELNA GOMEZ AND DEMI LAVATO
posted by

SelenaDemiCarlenns

on Jul 02, 2009

AHHH almost (almost) as Amazing as Twilight. We have the same name! In twilight
posted by

BellaArcher

on Jul 02, 2009

i love this video!!! its AWESOME!!!!!
posted by

carcarkinz

on Jun 29, 2009

my fav celbs they are the best
posted by

amina

on Jun 28, 2009