About This Video
---
This Movie Info
---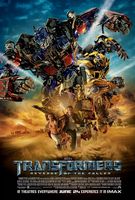 This time, the story finds Sam and Mikaela under attack by the evil Decepticons because of something Sam has learned about the origins of the Transformers and their ancient history on Earth.
To acquire this knowledge, the invading Decepticons need to capture Sam instead of kill him. Meanwhile, the U.S. military and an international coalition has united with the good-guy Autobots to fight back the villains' attack.
Some of the most important newcomers are in the robot cast: Decepticons Soundwave, a fearsome communications expert, and Devastator, whose arms and legs are built out of other Transformers. And on the Autobots' side is Jetfire, a villain whose age and broken-down physicality leads him to help the Autobots.
Comments
---

Linkin Park You Rock and You Rule
posted by

mark

on Apr 26, 2010

Linkin Park-New Divide one of the best songs!!!!!You are the best
posted by

x-master

on Nov 21, 2009

how do i download this video??
posted by

someone

on Sep 29, 2009
Megan fox " DEVINE "
posted by

ian Pierre

on Jul 21, 2009

excellent. this is my favorite movie
posted by

rahman

on Jul 09, 2009