About This Video
---

A clip/trailer of Hidden
Tags
:
Hidden
Type
: Movie Trailer
Views
: 925
This Movie Info
---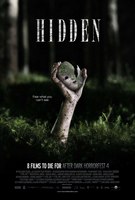 Hidden
Release Date :
January 29, 2010 AfterDark Horrorfest
Studio :
After Dark Films
Director :
Pal Oie
Starring :
Kristoffer Joner, Cecilie A. Mosli, Anders Danielsen Lie, Karin Park
The story of Kai Koss who upon the death of his cruel mother unwillingly returns to the small town he ran away from 19 years ago. He is left in charge of the family home and the dark secrets that come with it. Kai soon finds himself tangled up in a series of murderous events that are beyond anyone's control and his troubles begin to overwhelm him. He has spent the past two decades trying to forget a tortured past only to find that there are some things that you just can't run from.