About This Video
---

This Movie Info
---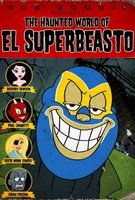 The legendary Rob Zombie ("House of a Thousand Corpses", "Devil's Rejects") presents a hilarious animated adventure of a crime fighting secret-agent, El Superbeasto (voiced by Tom Papa).
A massive, over-the-hill masked wrestler, El Superbeasto has more interest in exotic dancers than adventure. Despite his disinterest, however, he still manages to get involved with murderous super-intelligent gorillas, Liverpudlian zombies, and Dr. Satan - a manic-depressive mad scientist (voiced by OSCAR Nominee Paul Giamatti) obsessed with finding the perfect woman.
Throughout his unusual escapades, he is joined by his sister, Suzie-X (voiced by Sheri Moon Zombie), a sexy super-spy adventurer, and her sidekick: a 10-foot tall robot named Marvin, who digs Barry Manilow and Michael Bolton.