About This Video
---
This Movie Info
---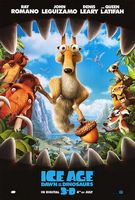 The sub-zero heroes from the worldwide blockbusters "Ice Age" and "Ice Age: The Meldown" are back, on an incredible adventure...for the ages. Scrat is still trying to nab the ever-elusive nut (while, maybe, finding true love); Manny and Ellie await the birth of their mini-mammoth; Diego the saber-toothed tiger wonders if he's growing too "soft" hanging with his pals and Sid the sloth gets into trouble when he creates his own makeshift family by hijacking some dinosaur eggs. On a mission to rescue the hapless Sid, the gang ventures into a mysterious underground world, where they have some close encounters with dinosaurs, battle flora and fauna, run amuck - and meet a relentless, one-eyed, dino-hunting weasel named Buck.
Comments
---

this is very excellent and also hope that iceage4 will also come.upto now i seen every part.Every movie is awesome.
posted by

sk.sheru

on Jul 04, 2009

Ice Age 3.The last film in the Ice Age saga.It will be Blue Sky Studios' first film in 3D(The blue and red colors that come out of the screen not the type like computer 3D,Moron!
posted by

Myers

on Apr 29, 2009