About This Video
---

A clip/trailer of The Losers
Tags
:
The Losers
Type
: Movie Trailer
Views
: 1115
This Movie Info
---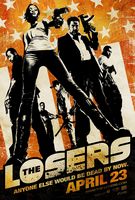 An explosive action tale of betrayal and revenge, "The Losers" centers around the members of an elite Special Forces unit sent to the Bolivian jungle on a search and destroy mission. But the team-Clay, Jensen, Roque, Pooch and Cougar-soon find that they have become the target of a deadly double cross, instigated from the inside by a powerful enemy known only as Max.
Making good use of the fact that they are now presumed dead, the group goes deeply undercover in a dangerous plot to clear their names and even the score with Max. They are joined by the mysterious Aisha, a beautiful operative with her own agenda, who is more than capable of scoring a few points of her own. Working together, when they're not arguing amongst themselves, they have to stay one step ahead of the globetrotting Max-a ruthless man bent on embroiling the world in a new high-tech global war for his own benefit. If they can take down Max and save the world at the same time, it'll be a win win for the team now known as The Losers.
"The Losers" stars Jeffery Dean Morgan ("Watchmen") as Clay; Zoe Saldana ("Avatar," "Star Trek") as Aisha; Chris Evans (the "Fantastic Four" films) as Jensen; Idris Elba ("Obsessed") as Roque; Columbus Short ("Quarantine") as Pooch; Oscar Jaeneda ("Che: Part Two") as Cougar; and Jason Patric (My Sister's Keeper) as Max.