About This Video
---
A clip/trailer of Orphan
Tags
:
Orphan
Type
: Movie Trailer
Views
: 3373
This Movie Info
---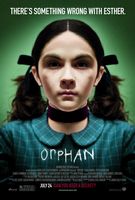 The tragic loss of their unborn child has devastated Kate and John, taking a toll on both their marriage and Kate's fragile psyche as she is plagued by nightmares and haunted by demons from her past. Struggling to regain some semblance of normalcy in their lives, the couple decides to adopt another child. At the local orphanage, both John and Kate find themselves strangely drawn to a young girl named Esther. Almost as soon as they welcome Esther into their home, however, an alarming series of events begins to unfold, leading Kate to believe that there's something wrong with Esther-this seemingly angelic little girl is not what she appears to be. Concerned for the safety of her family, Kate tries to get John and others to see past Esther's sweet facade. But her warnings go unheeded until it may be too late... for everyone.
Comments
---

dwayne bonello this movie its boring and i will not see it and i will give 1stars!
posted by

dwayne bonello

on Nov 18, 2012

I luv this film its amazing :D btw does any1 no how too dwnload the trailer just i need it for skool ...??? xox
posted by

Nicole xx

on Jan 21, 2010

This movie is spooky, creepy, and exciting. It will keep you on the edge of your seat. The only thing is, do NOT allow children to see it, there are some dirty scenes. Other than that enjoy the movie! You never know what you're going to get is what you will learn.
posted by

Kitty

on Aug 26, 2009

an amazinggg movie, its been ages since ive seen a real horror movie, i spent half of the movie with my eyes closed! I LOVE! ;)
posted by

Carisma

on Aug 08, 2009

This movie is AMAZING , i love it & cant wait for it to come out !
posted by

OrphanLover

on Jul 31, 2009
Orphan
posted by

Orphan

on Jun 25, 2009