About This Video
---
A clip/trailer of Sin Nombre
Tags
:
Sin Nombre
Type
: Movie Trailer
Views
: 1222
This Movie Info
---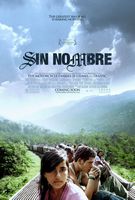 Sin Nombre
Release Date :
March 20, 2009 Limited
Studio :
Focus Features
Director :
Cary Fukunaga
Starring :
Edgar Flores, Paulina Gaitan, Kristyan Ferrer, Karl Braun
"Sin Nombre" is an epic dramatic thriller written and directed by Student Academy Award winner Cary Fukunaga in his feature debut. The filmmaker's firsthand experiences with Central American immigrants seeking the promise of the U.S. form the basis of the Spanish-language movie.
"Sin Nombre" tells the story of Sayra (Paulina Gaitan), a teenager living in Honduras, and hungering for a brighter future. A reunion with her long-estranged father gives Sayra her only real option - emigrating with her father and her uncle into Mexico and then the United States, where her father now has a new family.