About This Video
---
A clip/trailer of Gimme the Loot
Tags
:
Gimme the Loot
Type
: Movie Trailer
Views
: 2418
This Movie Info
---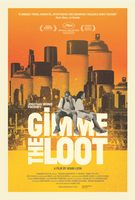 Gimme the Loot
Release Date :
March 22, 2013 Limited
Studio :
Sundance Selects
Director :
Adam Leon
Starring :
Tysheeb Hickson, Zoe Lescaze, Joshua Rivera, Tashiana R. Washington
Malcolm and Sofia, two determined teens from the Bronx, are the ultimate graffiti-writers. When a rival gang buffs their latest masterpiece, they must hatch a plan to get revenge by tagging an iconic NYC landmark, but they need to raise 500 dollar to pull off their spectacular scheme.
Over the course of two whirlwind, sun-soaked summer days, Malcolm and Sofia travel on an epic urban adventure involving black market spray cans, illicit bodegas, stolen sneakers, a high wire heist, and a beautiful, rich girl's necklace that is literally their key to becoming the biggest writers in the City.
Comments
---

This Movie Looks Like its gonna be a good one
posted by

bob101

on Mar 22, 2013
how do you download it??
posted by

Gerri

on Dec 30, 2008