About This Video
---
This Movie Info
---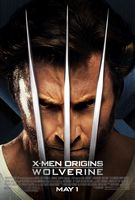 Leading up to the events of "X-Men," "X-Men Origins: Wolverine" tells the story of Wolverine's epically violent and romantic past, his complex relationship with Victor Creed, and the ominous Weapon X program. Along the way, Wolverine encounters many mutants, both familiar and new, including surprise appearances by several legends of the X-Men universe.
Comments
---

dwayne bonello i hate the movies of x-men and i his movie i willnot see it and i will give 1stars!
posted by

dwayne bonello

on Oct 31, 2012

OMG, i went to see this and it was brilliant!
posted by

Robin

on May 27, 2009

Awesome!!
posted by

NC

on Apr 23, 2009

very good
posted by

aakash

on Feb 23, 2009

Cant wait to see it wohooooooo!!
posted by

W Rean

on Dec 24, 2008