About This Video
---

A clip/trailer of Earth
Tags
:
Earth
Type
: Movie Trailer
Views
: 2371
This Movie Info
---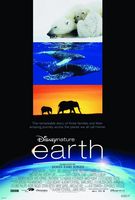 Earth
Release Date :
April 22, 2009
Studio :
Walt Disney Pictures
Director :
Alastair Fothergill, Mark Linfield
Starring :
James Earl Jones,
Patrick Stewart
, Ulrich Tukur
The first film in the Disneynature series, earth, narrated by James Earl Jones, tells the remarkable story of three animal families and their amazing journey across the planet we all call home. earth combines rare action, unimaginable scale and impossible locations by capturing the most intimate moments of our planet's wildest and most elusive creatures. Directors Alastair Fothergill and Mark Linfield, the acclaimed creative team behind the Emmy Award(r)-winning "Planet Earth," combine forces again to bring this epic adventure to the big screen, beginning Earth Day 2009.