About This Video
---

This Movie Info
---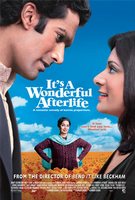 From the director of Bend it Like Beckham and Angus, Thongs and Perfect Snogging comes this year's new romantic comedy, It's A Wonderful Afterlife, in which an Indian mum's match-making efforts turn deadly when she tries to marry off her daughter.
In this killer comedy, Mrs Sethi can't bear the thought of her daughter being alone and unhappy. When she can no longer stomach the rudeness of families who refuse her daughter, she takes matters into her own hands with the only way she knows... Suddenly a police hunt begins for a serial murderer who cooks a killer curry but will her daughter find love before the police come knocking on their door? It's A Wonderful Afterlife is a comic feast which takes the phrase 'I could murder a curry' to hysterical new heights.
Directed by Gurinder Chadha. The screenplay is by Chadha and Paul Mayeda Berges and it centered on an Indian mother who takes her obsession with marriage into the world of serial murder. It was filmed primarily in English, with some Hindi and Punjabi dialogue.
The protagonist is played by the newcomer, Goldy Notay. She will be joined by the Shabana Azmi (Fire, Godmother, Arth, Madame Sousatzka), Shaheen Khan (Bend It Like Beckham), and Sendhil Ramamurthy from Heroes.