About This Video
---
A clip/trailer of New in Town
Tags
:
New in Town
Type
: Movie Trailer
Views
: 3101
This Movie Info
---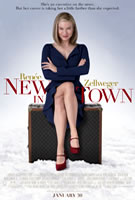 Lucy Hill (Renee Zellweger) is an ambitious, up and coming executive living in Miami. She loves her shoes, she loves her cars and she loves climbing the corporate ladder. When she is offered a temporary assignment - in the middle of nowhere - to restructure a manufacturing plant, she jumps at the opportunity, knowing that a big promotion is close at hand. What begins as a straight forward job assignment becomes a life changing experience as Lucy discovers greater meaning in her life and most unexpectedly, the man of her dreams (Harry Connick, Jr.).
Comments
---

minnasotea?
posted by

rr

on Mar 08, 2009

gotta love renée
posted by

editt

on Jan 03, 2009

delicious delightful
posted by

junkdog

on Nov 24, 2008

looks hysterical
posted by

buunyhop

on Nov 23, 2008

HYSTERICAL!
posted by

martymouse

on Nov 22, 2008

i luv it
posted by

frany2

on Nov 22, 2008

this movie looks great-I want to see it openong night with all my hilarious friends because it looks hilarious-JUST WHAT WE NEED
posted by

bernadetee

on Nov 22, 2008

Love the trailer-!!!!
posted by

sineadh

on Nov 22, 2008

Definiteley planning on seeing this looks hysterical
posted by

popo

on Nov 22, 2008

looks fabulous
posted by

janeygirl

on Nov 22, 2008

COMEDY TEAM
posted by

zippeydee dew

on Nov 22, 2008

this is my kind of movie
posted by

fruitchopper

on Nov 22, 2008

I love Renne,love Harry,love the cast-hope it gets all the hype it deserves
posted by

bleeperblop

on Nov 22, 2008

finally something I want to see
posted by

howiede

on Nov 22, 2008

really great
posted by

jingleb

on Nov 22, 2008

WHAT A FANTASTIC CAST_I CAN"T WAIT
posted by

puppydog

on Nov 22, 2008

what a riot
posted by

hofter

on Nov 22, 2008