About This Video
---
A clip/trailer of Adventureland
Tags
:
Adventureland
Type
: Movie Trailer
Views
: 2049
This Movie Info
---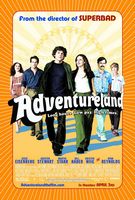 It's the summer of 1987, and James Brennan (Jesse Eisenberg), anuptight recent college grad, can't wait to embark on his dream tour ofEurope. But when his parents (Wendie Malick and Jack Gilpin) announcethey can no longer subsidize his trip, James has little choice but totake a lowly job at a local amusement park. Forget about German beer,world-famous museums and cute French girls-James' summer will now bepopulated by belligerent dads, stuffed pandas, and screaming kids highon cotton candy. Lucky for James, what should have been his worstsummer ever turns into quite an adventure as he discovers love in themost unlikely place with his captivating co-worker Em (KristenStewart), and learns to loosen up.
Comments
---

SHE HAS A B.F ITS THAT GUY FROM SKY HIGH. SOMEONE TOLD ME SHE IS IN JAIL FOR SMOKING WEED BUT I DONT THINK SHE IS B.C SHE IS MAKIN ALL THESE MOVIES.
posted by

ALEXIS _101

on Dec 27, 2008

So does Krsiten love Robert Pattinson Plse reply people tell me Oh whats with the whole Kristen Stewart smoking weed.And the problem is she gonna date Him or What????
posted by

Hot Jessica

on Dec 06, 2008