About This Video
---

A clip/trailer of The Bang Bang Club
Tags
:
The Bang Bang Club
Type
: Movie Trailer
Views
: 11817
This Movie Info
---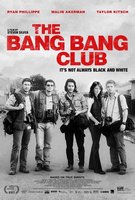 The Bang Bang Club is the real life story of a group of four young combat photographers - Greg Marinovich, Joao Silva, Kevin Carter and Ken Oosterbroek - bonded by friendship and their sense of purpose to tell the truth. They risked their lives and used their camera lenses to tell the world of the brutality and violence associated with the first free elections in post Apartheid South Africa in the early 90s. This intense political period brought out their best work (two won Pulitzers during the period) but cost them a heavy price. Based on the book of the same name by Marinovich and Silva, the film stars Ryan Phillippe, Malin Akerman and Taylor Kitsch and explores the thrill, danger and moral questions associated with exposing the truth.
Comments
---

dwayne bonello this movie its confused confused and i will not see it and i will give 1stars!
posted by

dwayne bonello

on Nov 10, 2012

HANNAH MONTANA JENNIFEFER COAJULAYNAED
posted by

JENNIFER RODUEZ

on Jul 22, 2010

love it!
posted by

www.keshatime.tk

on Jul 14, 2010

i luov this szong!
posted by

jazz

on Jul 02, 2010

LVVV ur songs!<3
posted by

MILEYcyrusSLUTdontBE

on Jun 22, 2010

I love your songs very much they are very beauifull I like your sound and It will be very nice if you actings are the hotest of athers i like every thing just like every singer but not Lady gaga and Rhina but I like the athers sings keep going be the hote then it will be the famuse of all by my name is fiyori
posted by

kesha the singer of

on Jun 21, 2010

OK WTF IN EVER ONE OF HERE VIDEOS SHE LOOKS CRAAZY I MEAN I LIKE SOME OF HER SONGS BUT I MEAN DAMN
posted by

TURE JUSTIN BIEBERFA

on Jun 20, 2010
Heyy im Kellyyy. Kesha yourr greatt i love you.. but i agree with the other kelly under me.. Like this song is good but you are disctusting in other videos. and in blah blah blah u were like " i wanna be naked " and stuff. and this song YLIMD, you are just like kissing that guy so much in the video. BUT PLZZ be the old kesha again.. but just kiss someone and thats it not so muuch thoo. thankss. bye luvv yaaaaaaaa
posted by

kelly1123

on Jun 08, 2010

I did pretty good huh?
posted by

Ke$ha

on Jun 03, 2010

i am a lao i like english song very very very mush ::::::::::))))))))))) huk dr
posted by

joulee of laos

on May 31, 2010

lady gaga,beyonce, taylor swift, kezha,maraicarry >_< @_@ -\\\-
posted by

joulee of laos

on May 31, 2010

Yeah, I really dig this tune. That Kesha is outta sight!
posted by

Thelonius Monk

on Mar 16, 2010

heyy wats upit hoyt0014 i am only 13 years old
posted by

hoyt0014

on Jan 27, 2010