About This Video
---

A clip/trailer of 3 Idiots
Tags
:
3 Idiots
Type
: Movie Trailer
Views
: 1679
This Movie Info
---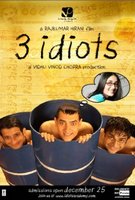 3 Idiots
Release Date :
December 25, 2009 Limited
Studio :
Reliance Big Pictures
Director :
Rajkumar Hirani
Starring :
Aamir Khan
, Boman Irani, R. Madhavan, Kareena Kapoor
Two friends embark on a quest for a lost buddy. On this journey they encounter a long forgotten bet, a wedding they must crash and a funeral that goes impossibly out of control.
As they make their way through the perilous landscape, another journey begins: their inner journey through memory lane and the story of their friend - the irrepressible free- thinker Rancho(Aamir Khan), who in his unique way, touches and changes their lives.
It is a story of their hostel days that swings between Rancho college romance with the spirited Pia (Kareena), and his clash with an oppressive mentor (Boman Irani).
Finally, in misty mountains of unparalleled beauty, the friends (R. Madhavan and Sharman Joshi) find the key to the secret that they seek.
3 Idiots is a comedy of ideas that is as provocative as it is funny, as wildly entertaining as it is insightful. A laugh-riot that talks about the most important of human pursuits: self-actualization.