About This Video
---
A clip/trailer of Yes Man
Tags
:
Yes Man
Type
: Movie Trailer
Views
: 2034
This Movie Info
---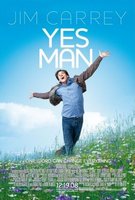 Jim Carrey stars as Carl Allen, a guy whose life is going nowhere-the operative word being "no"-until he signs up for a self-help program based on one simple covenant: say yes to everything...and anything. Unleashing the power of "YES" begins to transform Carl's life in amazing and unexpected ways, getting him promoted at work and opening the door to a new romance. But his willingness to embrace every opportunity might just become too much of a good thing.
Comments
---

dwayne bonello i love all the movies of jim carrey and if there a new film of jim carrey i will see and i will give stars! all!
posted by

dwayne bonello

on Oct 16, 2012

Is fun
posted by

Yes Man

on Mar 22, 2009

Love Jim Carrey, his so funny! Can't wait until it comes to my country! Wohooo for Jim Carrey,making a person laugh and they will get a longer life!
posted by

:D

on Jan 19, 2009

Can I Join In On The Fun?
posted by

JewishCornSnoggin

on Nov 11, 2008
omg i want to fuck jim carrey
posted by

ZacCarterNC

on Nov 11, 2008

i want to do his doodie hole!
posted by

ZacCarterNC

on Nov 11, 2008