About This Video
---
Tags
:
Twilight
Type
: Music Video
Views
: 16623
This Movie Info
---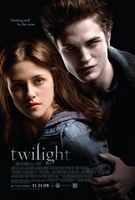 TWILIGHT is an action-packed, modern day love story between a vampire and a human. Bella Swan (Kristen Stewart) has always been a little bit different, never caring about fitting in with the trendy girls at her Phoenix high school. When her mother remarries and sends Bella to live with her father in the rainy little town of Forks, Washington, she doesn't expect much of anything to change.
Then she meets the mysterious and dazzlingly beautiful Edward Cullen (Robert Pattinson), a boy unlike any she's ever met. Intelligent and witty, he sees straight into her soul. Soon, Bella and Edward are swept up in a passionate and decidedly unorthodox romance. Edward can run faster than a mountain lion, he can stop a moving car with his bare hands - and he hasn't aged since 1918. Like all vampires, he's immortal. But he doesn't have fangs, and he doesn't drink human blood; Edward and his family are unique among vampires in their lifestyle choice. To Edward, Bella is that thing he has waited 90 years for - a soul mate. But the closer they get, the more Edward must struggle to resist the primal pull of her scent, which could send him into an uncontrollable frenzy. But what will Edward & Bella do when James (Cam Gigandet), Laurent (Edi Gathegi) and Victoria (Rachelle Lefevre), the Cullens' mortal vampire enemies, come to town, looking for her?
Comments
---

if there was 10 stars i would rate it higher than this its my favorite song besides the song the only exception
posted by

mrs. karen cullen

on Sep 15, 2010

i LOVE paramor I Really love paramor
posted by

Darksider

on Apr 22, 2010
I like paramore
posted by

wahyu

on Apr 17, 2010

ilove paramor
posted by

peyman

on Mar 19, 2010
paramore e a melhor banda que ja se passol na terra
posted by

guilherme -_- braz

on Mar 07, 2010

Simplely The best
posted by

Osvaldo

on Jan 19, 2010

this clib very good so story twilight's
posted by bella on Sep 05, 2009

gud song...
posted by

sit

on Sep 03, 2009

i love paramore and Robert pattinson
posted by

guida

on Jun 11, 2009

I absolutely love this video if i could be in it i would
posted by

foreverbroken

on May 06, 2009

AMAZING SONG!!!!! I LOVE IT..... does anyone know where i can download the music video?
posted by

twilightlover4eva

on Mar 27, 2009

OmG! PaRaMoRe Is AmAzIn. LuViN iT ThE FiLm AnD tHe BaNd ReAlLy Go ToGeThEr
posted by

HaYlEy =]

on Mar 26, 2009

OmG! PaRaMoRe Is AmAzIn. LuViN iT ThE SoNg AnD tHe BaNd ReAlLy Go ToGeThEr
posted by

HaYlEy =]

on Mar 26, 2009

I LOVE THIS SONG PARAMORE IS SO COOL.... AND SO TWILIGHT D
posted by

~twilight~

on Mar 21, 2009

Luvin the song the lyrics really go with the film
posted by

H@Y!ŁY =]

on Mar 13, 2009

i love you...pou tsairo
posted by

s0fia + chry5talla

on Feb 25, 2009

from cyprus \pafo
posted by

s0fia + chry5talla

on Feb 25, 2009

Endward i5 the be5t....en kukl05
posted by

s0fia + chry5talla

on Feb 25, 2009

i love decode - paramore
posted by

victória

on Feb 11, 2009

issssssss soooo cool!!! i love paramore
posted by

tt

on Feb 06, 2009

i love it!
posted by

[(LC)] Cullen

on Feb 06, 2009

good rhythm, sound is true rock.
posted by

obet

on Jan 21, 2009

how can idownload this?
posted by

3

on Jan 12, 2009

my favorite band and my favorite movie,, gosh,, I LOVE IT!!
posted by

.gta.cullen

on Jan 10, 2009

i rEaLLy LOVE it..........
posted by

eStUpidA

on Jan 04, 2009

its cool
posted by

johanz

on Dec 26, 2008

how will i be able to download this video???
posted by

bASHA

on Dec 26, 2008

OMG this music video was awesome and it includes themovie twilight that movie was the best movie i had evr seen!
posted by

Veronica

on Dec 21, 2008

WOW! Paramore is second only to Fall Out Boy. And Twilight - it's the best movie i've seen in a long time, and the books are great <3
posted by

Maddy

on Dec 14, 2008

Wow!!!Definitely one of the best bands I have ever heard.I am so glad that Twilight finally helped them achieve the huge amount of exposure they have had,because they really deserve it!
posted by

Heidi of the Volturi

on Dec 12, 2008

who ever your song engineer,,pick the right songs and stuff..great job guys..keep it up,,
posted by

cindy

on Dec 08, 2008

song&video r great! one of the best paramore songs, i loved it!! i can't wait for the movie too...
posted by

Mia

on Nov 30, 2008

This video is so good it fits the movie like a lot I cant wait 4 the movie
posted by

Maria

on Nov 16, 2008

LUV DIS VIDEO WHERE CAN I DOWNLOAD IT TO MY IPOD
posted by

lethsalinement

on Nov 10, 2008

Dude this is the first video from a movie that actually relates to it.Paramore ROCKS!!Btw all you haters of the movie Twilight and the series need to get a life this movie isn't about you and your opinions its about action and romance so if you don't like it keep your mouth SHUT.
posted by

I♥Twilight15ed

on Nov 09, 2008

with all the procastination... and now the video... its nice... anyhoo..
posted by

xxbarbaraxx

on Nov 07, 2008

the video was okay,i mean i was expecting more of it. but the movie looks intense dude. cant wait till it comes out!
posted by

PARAwhore

on Nov 06, 2008
ahh its amazing ive been looking 4 this 4 ages i cant wait to see twilight im so excited
posted by

fangs up cullen styl

on Nov 06, 2008

I LOVE THIS VIDEO AND SONG SOO MUCH!!! I CANT WAIT TO SEE TWILIGHT <333!!! I LOVE THE TWILIGHT SAGA!! I LOVE PARAMORE!! I LOVE HAYLEY'S HAIR AND THE COLOUR OF IT!!!
posted by

Mrs.Cullen

on Nov 05, 2008

i LOVE LOVE LOVE it :D i cant WAIT for twilightt (: :O wheres Jeremys hair gone?! x
posted by

amyymakesyoubeautifu

on Nov 05, 2008

HAYLEY IS SOO AWESOME! i love her hairrrrrr! she looks really pretty in this vid and OMG he cut his hairr! i love twilight also (= paramore = perfect twilight = awesomee video = excellent!
posted by

metrostation&paramor

on Nov 05, 2008